Lee Flour Mill Documents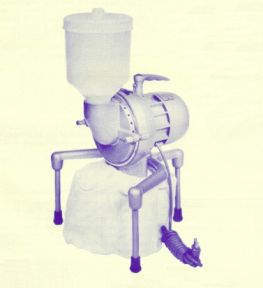 We bought our model S600 Lee Flour Mill in 1973 while we lived in Japan. Since it was difficult at the time to ship things back to the States for repair, we usually ordered some replacement parts along with anything likely to need them.
Well, we never needed to replace any parts in the mill (and yikes! it's been more than 30 years!). The company has long gone out of business.
I still have the information that was sent along with it. Every so often I'm asked for information on the mill, so I thought it might be useful to scan it and post it all in one place for reference. There must be hundreds of these workhorse appliances still in circulation.
Please download and keep your own copy of anything you need here. To do that, right-click and select "Save target as."
Also, if you have documents that I don't have, I'd appreciate a scan so they may be included. Please send to: larry [at] freerangegourmet.com .
This is a list of pretty much everything that came with the mill, even if not directly related. Files are all in PDF format.
It seems that Dr. Royal Lee was somewhat controversial. In addition to the Lee Engineering Company which produced his mechanical inventions (including the Lee Flour Mill), he was engaged in several enterprises related to human nutrition. When the flour mill was delivered, several of his brochures and pamphlets were included.
If you are interested, Google will reveal much about Dr. Lee, his beliefs and his enterprises, but unfortunately, not much about his flour mill.