Da Spot brings Mediterranean food to the KCC Farmers Market
The
tip sheet
for tomorrow's Farmers Market at KCC lists one of our favorite places to eat, Da Spot, as a new vendor offering "Mediterranean entrées and side dishes."
What a great addition to the market! Check out
Nadine Kam's review in the Star Bulletin
. Owners Ako Kifuji and Ahmad Ramadan cook up a delicious Egyptian Chicken, among other tempting dishes, at their restaurant at 908 Pumehana Street in Honolulu.
They have also originated a new entrepreneurial paradigm: they are creating a pipeline of customers who will stay with them over the years. All day, kids of all ages bop through the door and buy something--often from the Da Dolla menu, or a smoothie. They graduate to one of the inexpensive sandwiches and later on will no doubt keep coming for those Mediterranean entrées.
We're curious to see what they bring to the market tomorrow. We'll probably forgo the breakfast offerings of the other vendors and choose something from Da Spot. Come to KCC 7:30 - 11 a.m. and check it out.
Tags:
Forget the wine barrels? Japanese firm claims to age wine instantly
Oh, no. Everything I've learned about wine may be obsolete. I'm hoping to figure out how wine experts detect "bouquet of grapefruit and tarragon, Thai basil and ginger; dusty blueberry and biscotti flavors with a brash finish" after only a sip or two of a wine they're trying to convince me to buy. Often, when I get the bottle home, I puzzle at the description that led me to buy it, and wonder if I'll ever be able to either find those flavors myself or write prose like that for a living.
Maybe I can learn to distinguish if a wine spent time in an oak barrel or not. That should be easy. But if this Japanese invention really does what they claim it can, that simple skill will be obsolete.
The Mainichi Daily News reported Saturday
that
[a Japanese firm] claims to have perfected a machine that can transform a bottle of just-fermented Beaujolais Nouveau into a fine, mellow wine in seconds, all by zapping it with a few volts of electricity.
See the article for a description and pictures.
Of course, I wondered how a machine could do this. There should be obvious advantages if it really works. The article exclaims
"Think of the savings we'll make. Shorter production time, no need for storage, no need to invest in barrels"
On the other hand, I'm suspicions of the science behind this. How does it work?
[Company president] Tanaka claims the electrolysis treatment instantaneously breaks up water clusters in the wine, allowing the water to more thoroughly blend with the alcohol.
Water clusters???
Hey, I passed my chemistry classes without once hearing about "water clusters." Ok, ok, I'm obviously not a wine expert and not a chemist either, so what do I know.
It will be interesting to see where this goes. And will wine shops describe these instant vintages as "faint bloom of platinum electrodes with just a hint of tarnished electrolyte" or what?
Tags:
Japan again bans US beef amid fears of mad cow disease
VOA: Canadian beef on display in a Tokyo store
You would think that US shippers would take special care to be sure that beef exported to Japan is safe, especially in view of criticism that the Japanese government lifted the ban only to please President Bush just before his recent visit.
But the
Voice of America
reports that
Japan has again banned all imports of U.S. beef, just a couple of weeks after allowing a partial resumption of shipments.

Public anger is high here, after the discovery by customs agents of spinal material in a shipment of veal chops from New York. Consumer organizations are expressing outrage that after last month's partial lifting of a two-year ban on American beef, one of the first shipments contained material that could contain bovine spongiform encephalopathy, or mad cow disease.
Click
here
to listen to the VOA report (via
Nippon Goro Goro
). For a taste of Japanese reaction, see the Daily Yomiuri story
Consumer trust shattered / Delivery of suspicious U.S. beef will be hard to forgive
. This article includes the estimate that
one out of every 1 million U.S. cows aged 30 months or older is infected with mad cow disease.
Beef exported to Japan is supposed to be from animals 20 months or younger, but there is no restriction on what can be sold here. Just how many Americans are lucky enough to score a taste of that one-in-a-million cow mentioned in the Yomiuri story?
The lax American view is exemplified in this snippet from an AP/Canadian Press article posted on
foodconsumer.org:
Philip Peerless, president of Atlantic Veal and Lamb, the Brooklyn company that sent a shipment of meat to Japan containing bone the Asian country considers at risk for mad cow disease, was cited as saying in a statement that it regrets the move, but that the product is safe, adding, "Were this product shipped to San Francisco, there would be no question about its safety."

A Knight Ridder Newspaper article
confirms that Americans will willingly eat what is banned for export to Japan:
The meat that brought the ban would be found on many U.S. restaurant menus as veal chops or veal loin chops, said Janet Riley of the American Meat Institute, a packing industry group.
Nor do those of us who live in the USA have the benefit of vigilant Japanese customs agents. If spinal material were discovered in beef shipped to Safeway, for example, would they discontinue selling made-in-USA beef, or would they simply chuck the offending evidence into the trash can and sell the beef anyway?
You know the answer. Enjoy your hamburger.
Tags:
Bargain alert -- 99 cent silicone basters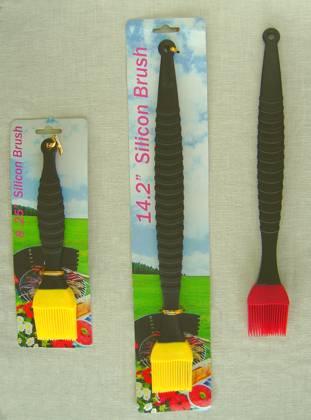 The ship from Japan must have come in--there are dozens of these
silicone basters
hanging on the wall today at the Marukai 99 cent shop in the Ward shopping complex area. Go and get one. The two on the left are from the 99 cent shop, the red one on the left is an expensive model from another store.
Usually I wonder exactly why something has ended up there. What could be wrong with it? Sometimes it's obvious--containers with ill-fitting lids or dishes with designs that nobody could love. But these look just like the ones in the expensive stores.
Great not only for basting but for spreading oil on waffle irons and so forth.
Tags:
New study shows unborn babies could be harmed by GM foods
London's
Independent Newspaper
reports on January 8, 2006 that "half of the offspring of rats fed on modified soya died in the first three weeks of life" (via the
Progressive Review
).
GEOFFREY LEAN, INDEPENDENT, UK - Women who eat GM foods while pregnant risk endangering their unborn babies, startling new research suggests. The study - carried out by a leading scientist at the Russian Academy of Sciences - found that more than half of the offspring of rats fed on modified soya died in the first three weeks of life, six times as many as those born to mothers with normal diets. Six times as many were also severely underweight. The research - which is being prepared for publication - is just one of a clutch of recent studies that are reviving fears that GM food damages human health. Italian research has found that modified soya affected the liver and pancreas of mice. Australia had to abandon a decade-long attempt to develop modified peas when an official study found they caused lung damage.

Last May this newspaper revealed a secret report by the biotech giant Monsanto, which showed that rats fed a diet rich in GM corn had smaller kidneys and higher blood cell counts, suggesting possible damage to their immune systems, than those that ate a similar conventional one...

The Russian research threatens to have an explosive effect on already hostile public opinion. Carried out by Dr Irina Ermakova at the Institute of Higher Nervous Activity and Neurophysiology of the Russian Academy of Sciences, it is believed to be the first to look at the effects of GM food on the unborn.
Tags:
So Gong Dong just as good in new location
The
So Gong Dong Korean Restaurant
moved from their old location near Ala Moana Shopping Center to a new spot on the second floor of the
McCully Shopping Center (map)
. The new quarters are larger, and include yakiniku tables with pull-down ventilator pipes to suck up the smoke from the grilling ingredients. The menu is expanded to include the new yakiniku items, otherwise it is the same.
We had the Soondubu Tofu Soup which I've described in the
previous review
. I had the Original, Nanette had the Kimchee. Both were as good as we remembered, and very warming on a cool Hawaii day.
This restaurant has an elaborate
website
with illustrations of the menu items. Check it out.
Next time you feel a chill in the air, the perfect antidote can be found at
So Gong Dong.
So Gong Dong
McCully Shopping Center, 2nd Floor
1960 Kapiolani Blvd.
Honolulu, HI 96826
(808) 946-8206
Open M-F (check with them for hours)
Tags:
The New Scientist explains how temperature affects the taste of food
The New Scientist for January 7, 2006
will ask the question:
How does temperature affect the taste of food and drink? For example, white wine, tap water, Cointreau, lager and even chocolate taste much better cold. On the other hand, tea, coffee and brandy, as well as most cooked meals, taste much better warm or hot. English beer and red wine are better at room or cellar temperature. Why?
To learn the answer (but not why the British prefer their beer warm) see the
article
.
Tags:
A world of wine tasting via email
Wine tasting at HASR: L to R, Walt Gample, Terry Kakazu, Guy Banal
Terry Kakazu runs an email list you want to be on: the one where she invites her loyal fans to come over for HASR's Tuesday or Friday wine tastings. We waited until the crowds had left to snap this shot of Walt Gample, who poured that evening, Terry Kakazu, owner with her husband, Mike, of the HASR Wine Company (HASR=Highly Allocated Spoiled Rotten, named after the wine club), and Guy Banal, who was owner and chef at Bon Appetit in Discovery Bay, a fine restaurant we visited frequently when we moved to Hawaii.
Terry closed out 2005 with a "Battle of Champagnes" featuring four pouring stations and a crowd spilling outside the doors. We arrived after the corks had popped and had to use our New York subway skills to elbow our way to the glasses.
Tonight (January 3) HASR has a tasting featuring Peter Spann Vineyards, including a Sangiovese exclusive to HASR and only 280 cases made. These really are exclusive--I'm looking at a yellow plastic cork marked "Spann Vineyards/Drink Mo-betta Wine!" Although the cork may be modern (and I found it hard to get out of the bottle), the wine production is said to be traditional: Spann Vineyards says that they still stomp on the grapes with feet. That's right, they crush grapes with human feet. These days, being traditional is actually quite radical.
Ok, you want to know about these wine tastings, don't you? To get on the list, email Terry and ask to have your email address added. That's
hasr@verizon.net
.
HASR Wine Company
31 N. Pauahi St.
Honolulu, HI 96817
(808) 535-9463
Tags: